Torah Cover Project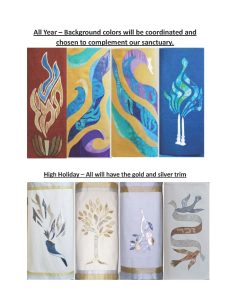 We are pleased to announce that First Hebrew Congregation will be embarking on a wonderful project to grace our Torah scrolls with beautiful new covers. We thank the generations who went before us in providing these ritual items. However, many of the covers are no longer in the condition which honors our Torah scrolls. In addition to providing beautiful new designs and textiles for our Sifrei Torah, these covers will be easier to use. They will have closures in the back so dressing a scroll will be simpler to do. There will also be new belts to help keep our scrolls rolled to the proper place.
We recognize that we are all being asked right now for funds to support Israel, and our response to those requests are crucial. Planning for our Torah cover project, however, began several months ago. We believe this project continues to show our pride and dedication to our Torah scrolls, to our Jewish community, and all they symbolize for both our past and present.
We hope you will be a part of this wonderful project! All members are welcome to join in this effort. All donors will have their participation acknowledged.